Tambora volcano is located on an island of Sumbawa in Nusa Tenggara, Indonesia. Crater of Tambora is magnificent in size – it has a diameter of 7 km and circumference of around 21 km. As Sumbawa doesn't boast any famous cultural landmarks it is rarely visited by foreigners, and remote Tambora sees even fewer. This is exactly the reason why you should think about climbing Gunung Tambora instead of the very crowded and commercialized Gunung Rinjani on Lombok.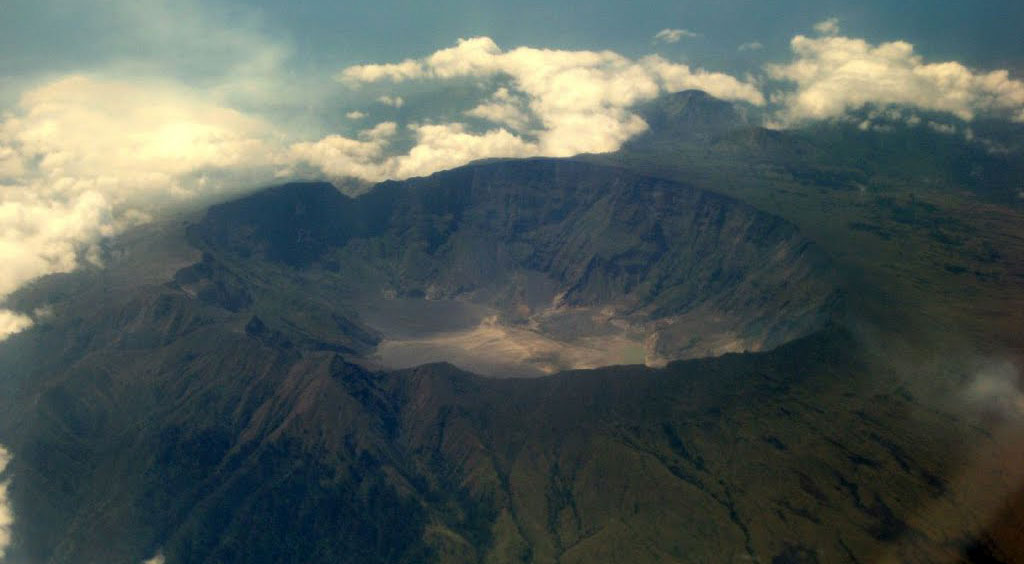 This guidebook is based on November 2012 visit
History
Even if name Tambora does not mean much to you, you might have learned about it during history classes. The fierce eruption of 1815 blew off the 4,300 m peak and left only a rim of 2,700 m and an 800-m crater looming below it. The eruption was the largest in recorded history and ashes from it disrupted global climate for over a year. 1816 is known as A Year Without Summer, when the worst famine of XIX century struck Europe and the US. Volcanologists rate the eruption at 7 in the Volcanic Explosivity Index. The famous eruption of Krakatoa of 1883 is rated a mere 6!

When to go
Tambora can be climbed all-year, however the best time for trekking is during the dry season, i.e. June to October. November brings fresh rain to the rainforest and the trail starts to be slippery, with regular heavy afternoon showers. From what we heard December can be already very wet and January to March are the toughest months to visit. In April and May trail conditions gradually improve.
How to get there
The trek to Tambora starts in the village of Pancasila. Pancasila is 10 km away from a slightly bigger village of Calabai and 110 km away from a town of Dompu.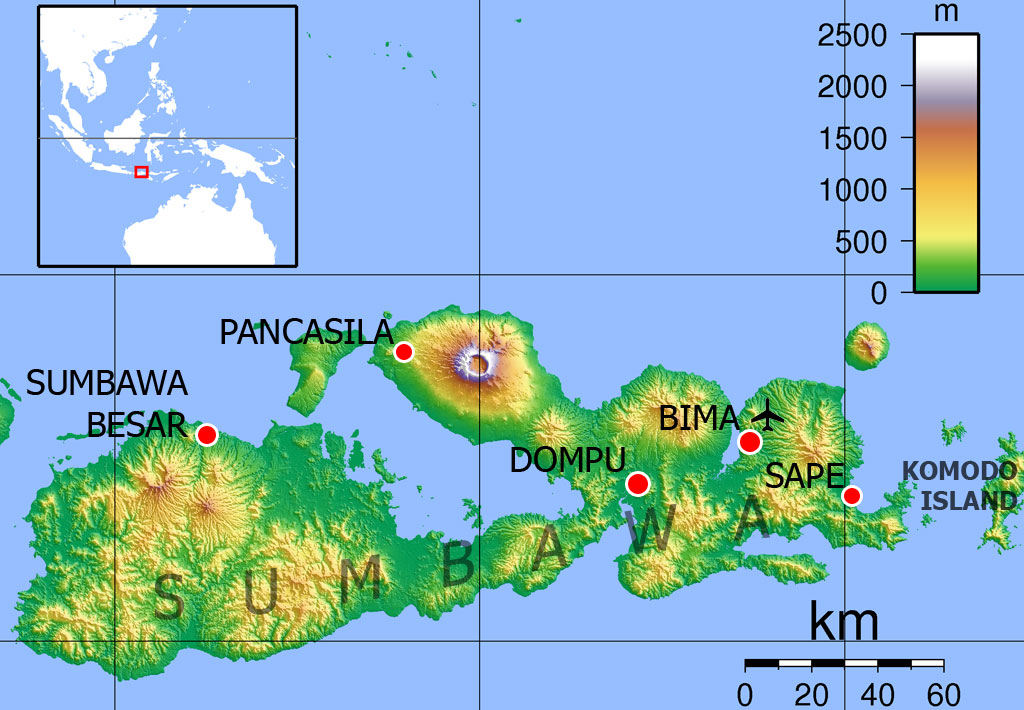 The most reasonable way to get to Pancasila is to board a morning bus from Dompu. This small regional town is located on the trans-Sumbawan road and all buses plying through Sumbawa stop there. Dompu is 4 hours of bus ride away from Sumbawa Besar and around 2 hours from Bima (which has an airport and connections to Denpasar). Dompu has a couple of cheap hotels, out of which the best is Wisma Samada (125,000 IDR for a double AC room, three huge cockroaches included). A reasonable price for an ojek (ride on the back of the motorbike) from Dompu bus terminal to Wisma Samada in the town centre is 10,000 IDR.
Bus from Dompu to Calabai/Pancasila costs 35,000 IDR and travel time is 5 hours. There are two morning buses and one afternoon one. The 8:00 bus is a direct connection Dompu-Pancasila. Another one at 9:00 is from Bima to Calabai, which leaves Bima approximately 7:00, stopping in Dompu approximately 9:00. The last 14:00 bus is again a Dompu-Pancasila connection. Buses are bursting at seams with passengers (on the roof as well) and when they are full you'll be left behind at the terminal. Departure times are always approximate, so be alert and ready at the terminal minimum 30 minutes earlier in order not to miss the bus.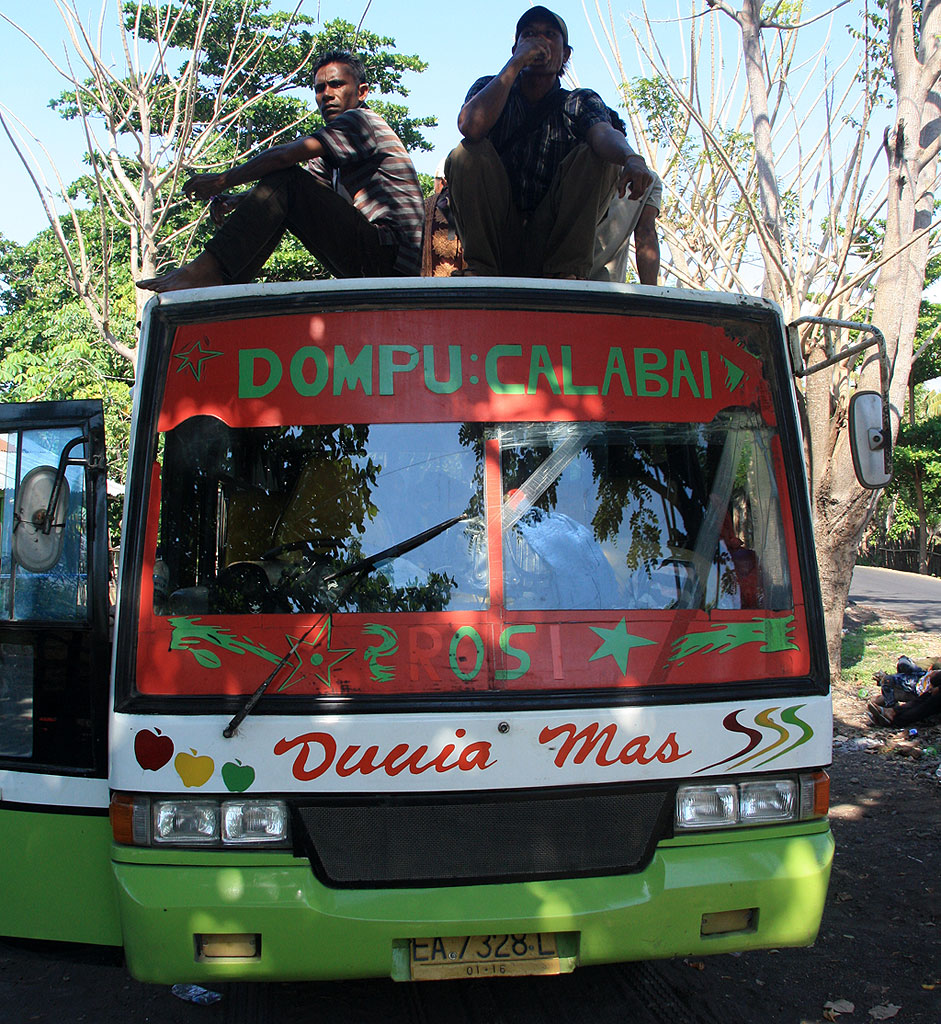 If you miss the bus – as we did – you can charter from Dompu a bemo (4 hours and 450,000 IDR) or a car (3 hours and 600,000 IDR).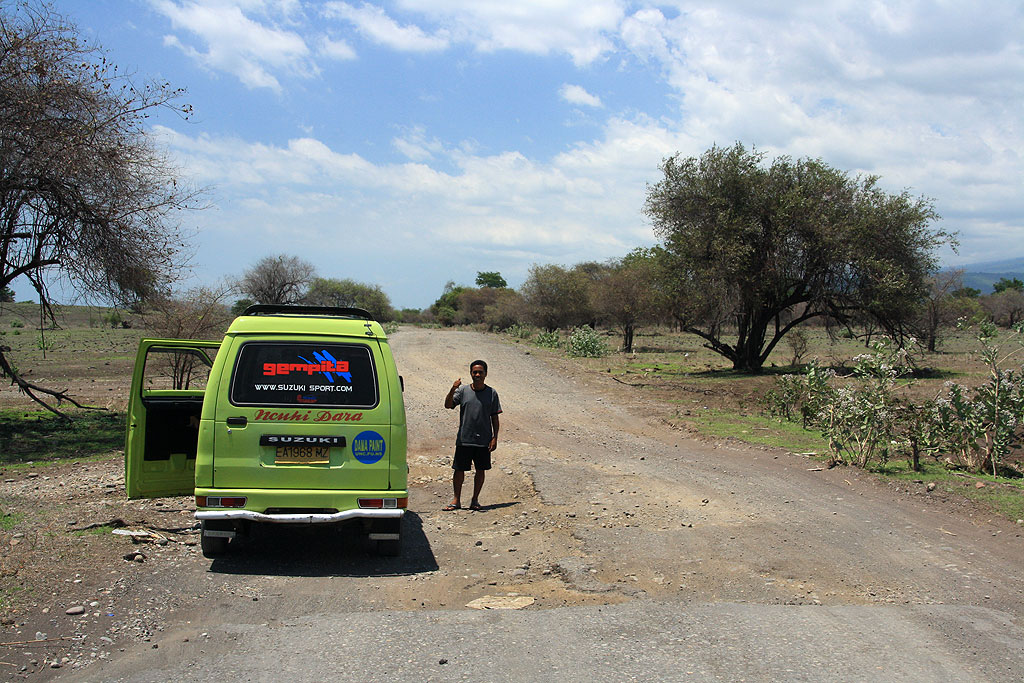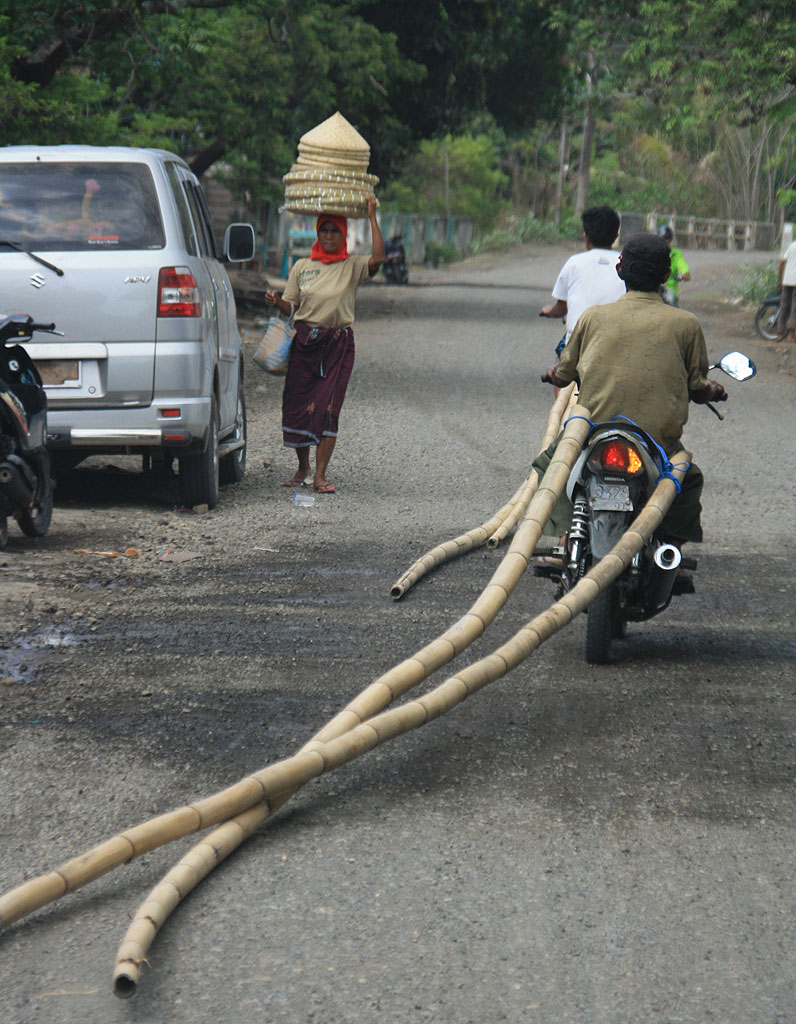 Village of Pancasila
Pancasila is a village of approximately 1,000 people. There are a couple of shops stocked with only basic food. If you plan to organize the trek yourself bring food from better-stocked shops in Dompu or Calabai.
Headquarters of K-PATA (Kelompok Pencinta Alam Tambora – The Nature Lovers' Group of Tambora) are located in the centre of the Pancasila, near the football field. K-PATA is a local endeavour which promotes tourism on Tambora. K-PATA can help you organize a homestay accomodation and a guide/porter for the trek. The organization also helps trekkers who are in emergency situations on the trek (sprained ankles, broken legs, etc). At the time of our visit, K-PATA was managed by Mr. Saiful Bahari (mob. +62 85 937 030 848). Saiful speaks some basic English.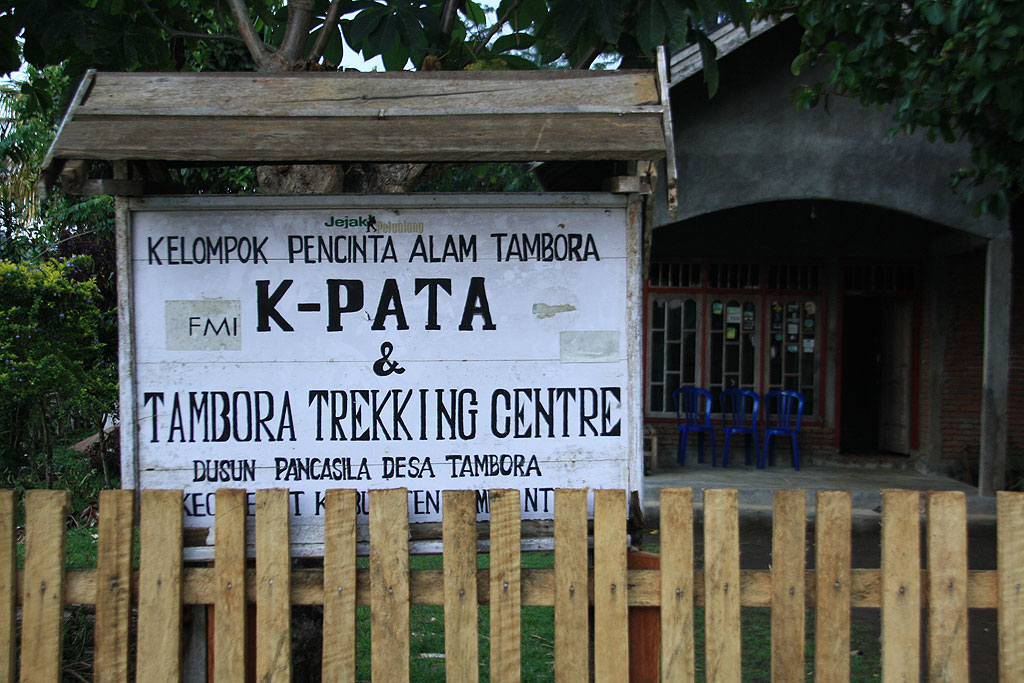 Warning! K-PATA – while definately helping good cause – has been known for trying to charge exuberant fees for foreigners (see discussion). Unfortunately it also happened to us. A couple of days before arriving to Pancasila we called Saiful from Gili Islands and via an Indonesian-speaking person we tried to negotiate a fee for the trek. Saiful wanted an astonishing 350 USD for arranging a three-day trek for two people, which obviously we refused. After arriving to Pancasila in the first hour we stayed away from K-PATA and managed to meet in one of the homestays an Indonesian from Jakarta who already had organized a guide for himself. We joined him and finally climbed the mountain in two days for less than 25 USD per person. However, you still can do it at virtually no cost if you follow our advice.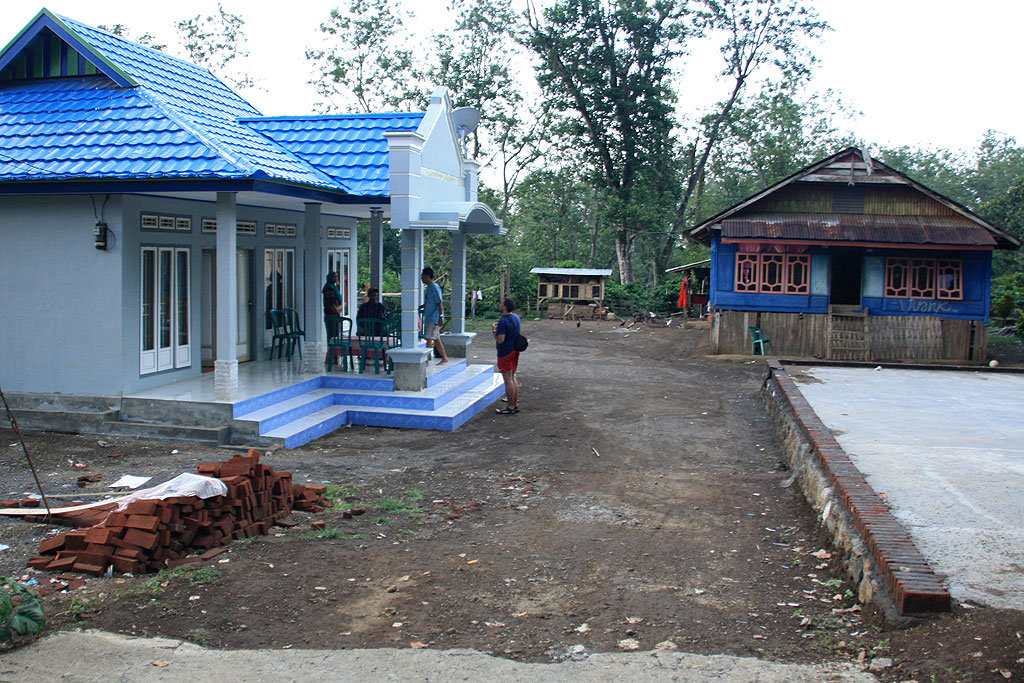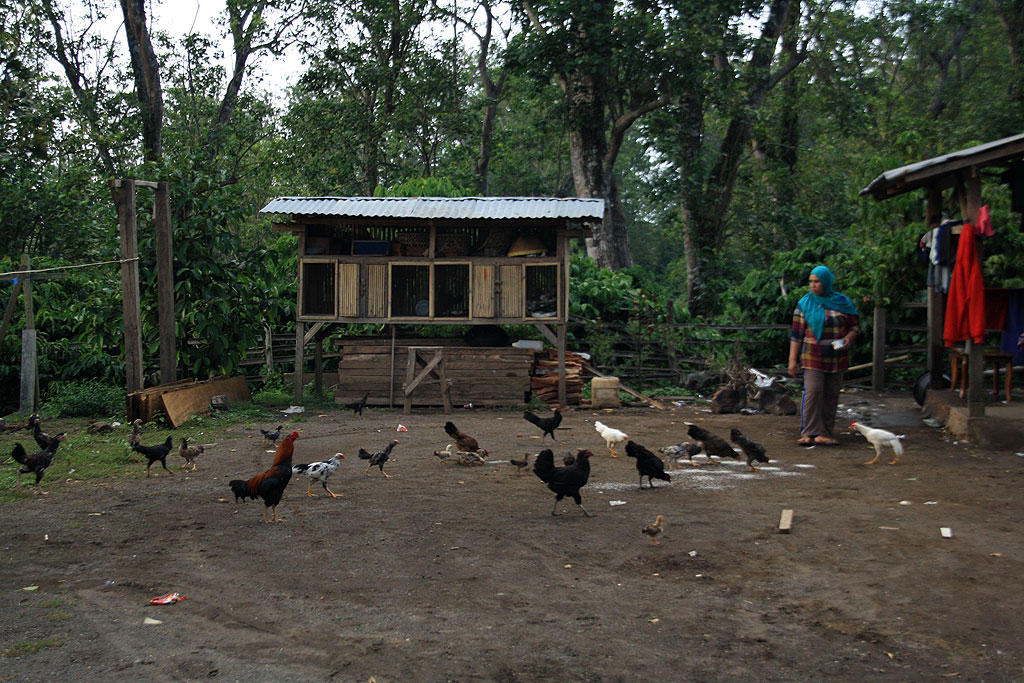 Reasonable prices:
Ojek ride Pancasila to Calabai – 25,000 IDR
Ojek ride from K-PATA to coffee plantation – 25,000 IDR
Ojek ride from K-PATA to the trail close to POS1 – 35,000 IDR
Obligatory entrance fee to Tambora (charged by K-PATA, tickets are given) – 10,000 IDR
Guide per day – 200,000 IDR
Porter per day – 150,000 IDR
Homestay accomodation in Pancasila – 100,000 IDR per person per night, including simple breakfast and simple dinner
Food bought for the group by guide/porter – according to the bill (for us it was 160,000 for three, i.e. 53,000 each)

Organize a trekking through K-PATA or go alone?
Internet resources about climbing Tambora are scarce, but those which exist claim that:

It is possible to climb Tambora but be warned – it is not a stroll in the park. You have to be physically very fit and be ready for some discomfort and danger. Very few Indonesians, and far fewer foreigners, ever make it to this out of the way place.(Wikitravel)

It is indispensable to take a guide and porters. (…) Saiful explained the dangers of the trek and insisted that I take two guides – common sense really as, if anything untoward happened, there was no mobile phone coverage and the injured person would have to be left alone while the other went for help. Seeing so few visitors, the track was heavily overgrown. The ascent, let alone any rescue mission, was sure to be a challenge. (Gunung Bagging)

Well, climbing Tambora can be much easier than that! Some reasons why:
A. A lot of people make it to the top. When we climbed Tambora in mid-November – during long weekend – around 50 people made it to the top. Next day when we were descending – we met around 200 people walking up! However, this might due to an outdoor festival which was happening in the vicinity of Pancasila.
B. Within this crowd of Indonesians 90% completed the trek in flip-flops and without a guide. Among them – three groups of teenagers.
C. From POS1 all the way to the top there is only one trail. It does not fork at all. During the dry season the trail is so clear it would be a challenge even in the dark to lose it.
D. The guides offered by K-PATA are local villagers. They have little in common with the European idea of a mountain guide. Our guide was struggling to keep with our pace on the way up. On the way down, contrary, he rushed an hour ahead of us! Being titled a "guide", he also refused to carry any load, so for carrying supplies he demanded we arrange another person – a porter. As we carried all our gear ourselves, in effect the porter was carrying the guides' clothes!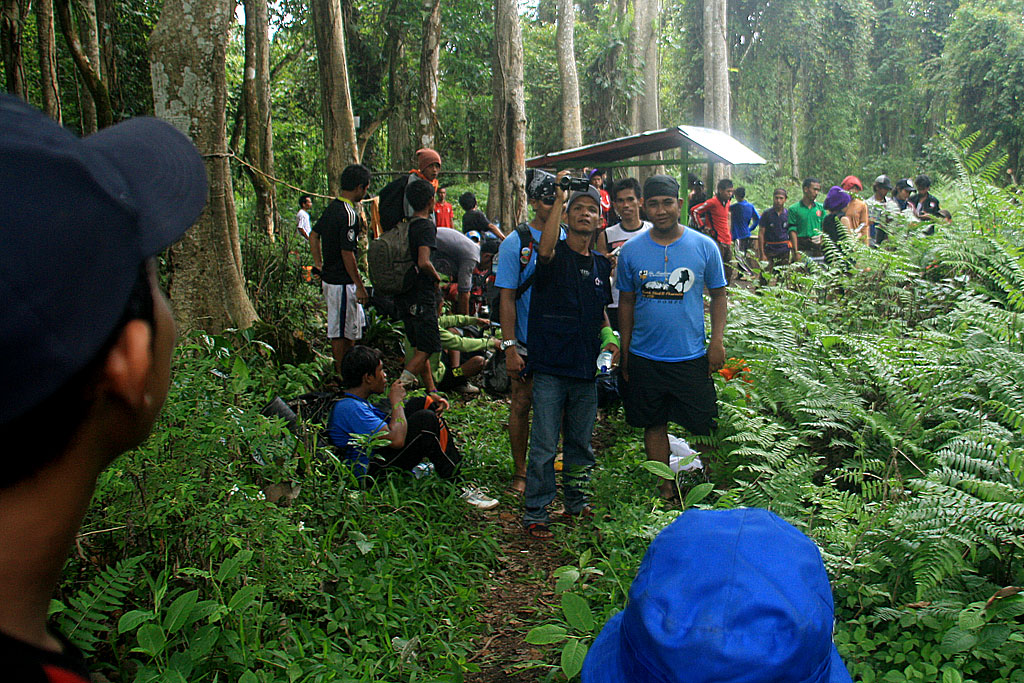 Do arrange a porter or guide from K-PATA if:
A. You have little mountain experience.
B. You don't know how to make a campfire and cook on it.
C. For safety reasons – when you are travelling alone and there is no group in Pancasila you can join.
D. You visit Tambora in the wet season or at the beginning of dry season – the jungle path gets thick and a porter/guide will use the machete to clear it.
In my opinion hiring just a porter is a better option than guide+porter. Our porter knew the way at least as well as the guide and carried camping gear – so he was way more helpful to us than the guide. All the guide did was smoke cigarettes all the way to the top…
Trekking
The standard itinerary on Tambora involves two full days. Most visitors on day one start trekking at 6:00 from Pancasila and arrive in POS3 in early afternoon (13:00-14:00). Then they rest until midnight and start walking up the mountain, arriving at the crater rim around five hours later. After staying at the rim for an hour or two, they descend to Pancasila the same way.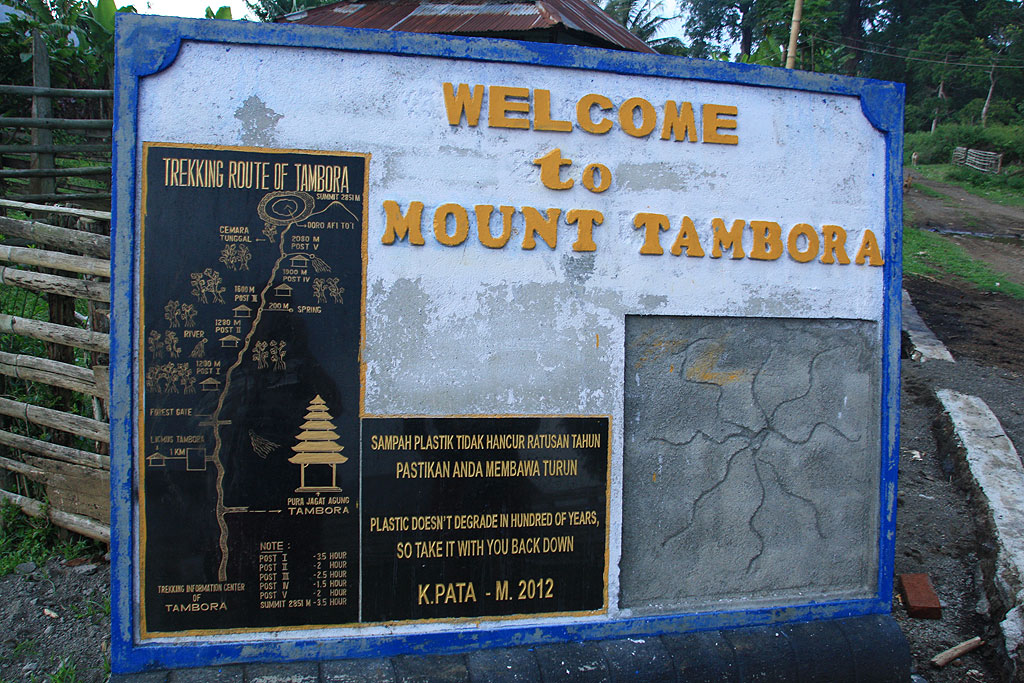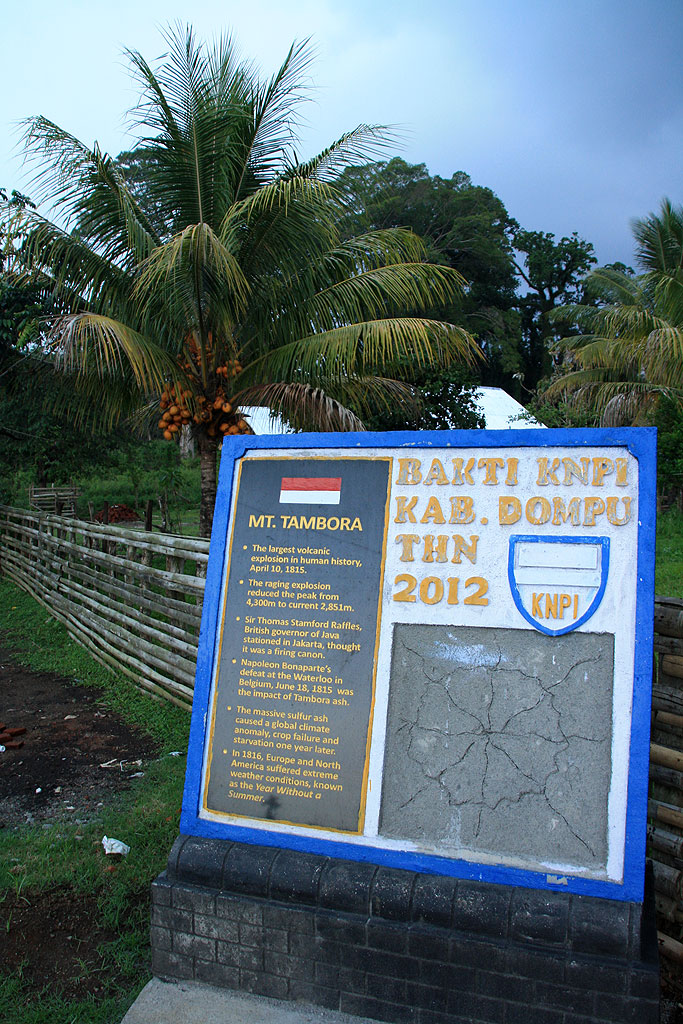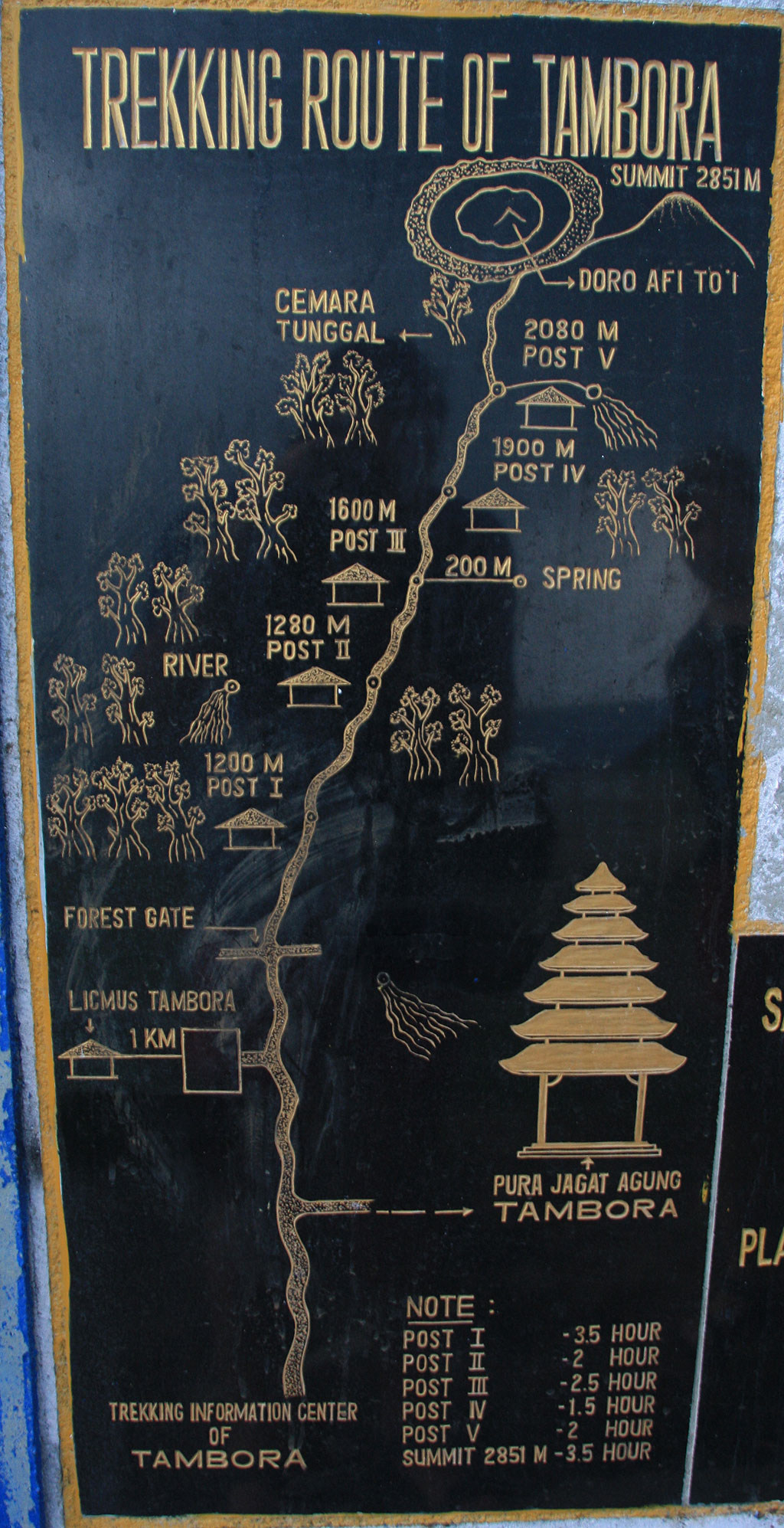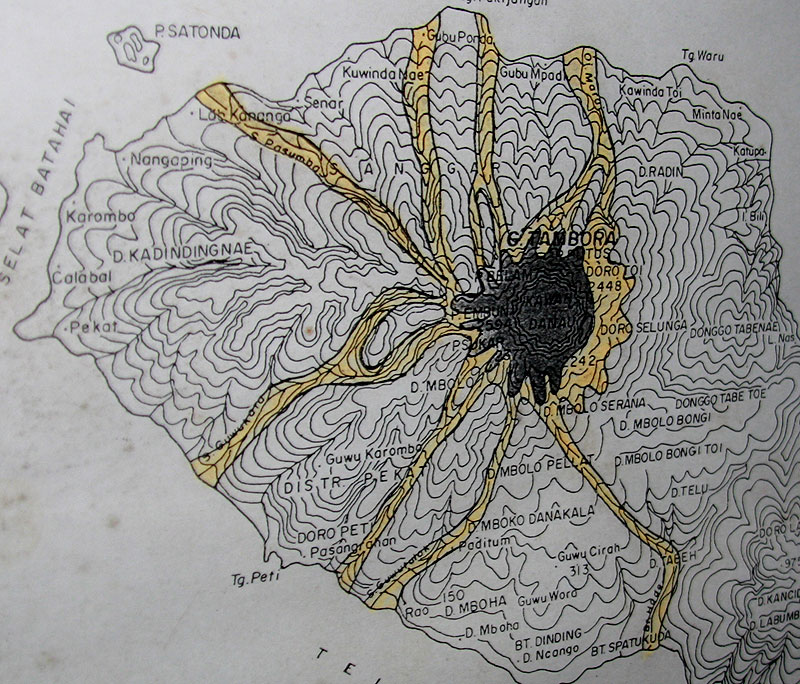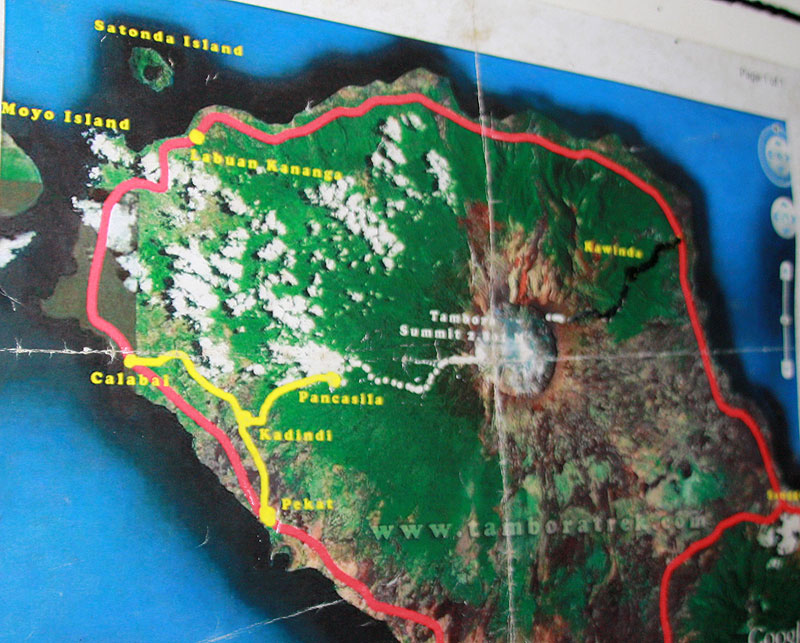 We found the itinerary of day one not optimal and modified it. On day one we filled water bottles in POS3 and continued to POS5 (two more hours of walking). We slept there (alone) and started walking at 3:00 at night, arriving at the rim at 5:00. Then we descended to Pancasila, arriving in the village at 15:00.
If we were to repeat our trip, on day two we would sleep much longer and not walk to the rim for the sunrise. The crater is most spectacular when sunlight reaches the bottom, which is two-three hours after sunrise. We would still have plenty of time to reach Pancasila before sunset.
Campsites
Post 1 (POS1) – 1200 m – with shelter, water available all year next to shelter
Post 2 (POS2) – 1280 m – with shelter, water available all year next to shelter
Post 3 (POS3) – 1600 m – with shelter, water available seasonally (was in mid-November), spring is 200 m away from shelter
Post 4 (POS4) – 1900 m – no shelter, no water available
Post 5 (POS5) – 2080 m – no shelter, water available seasonally (no water in mid-November), river bed 100 m away from POS5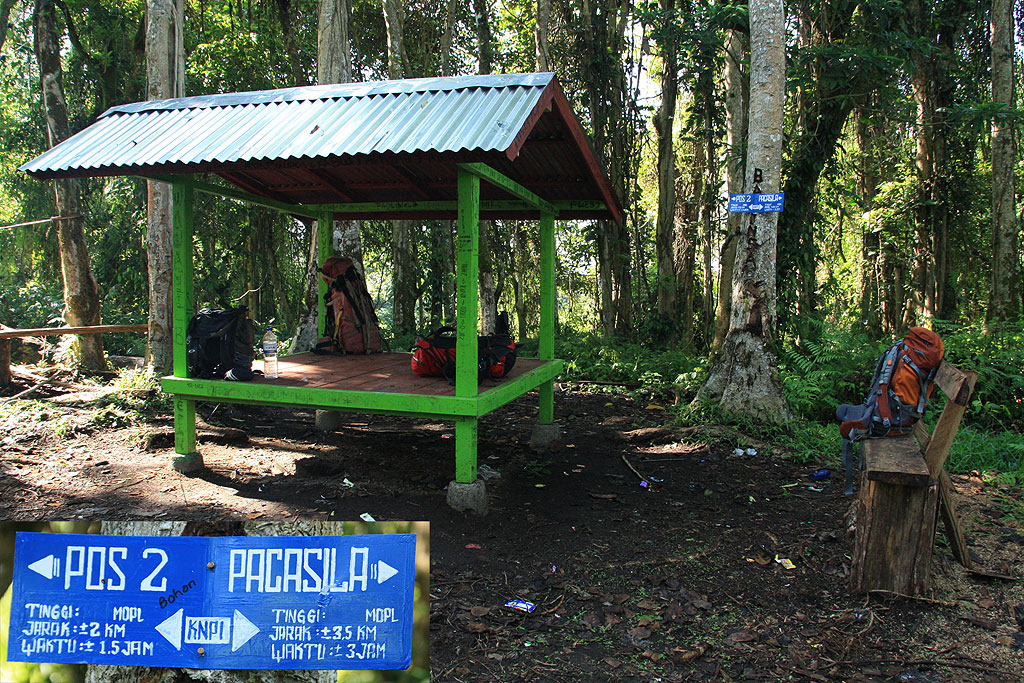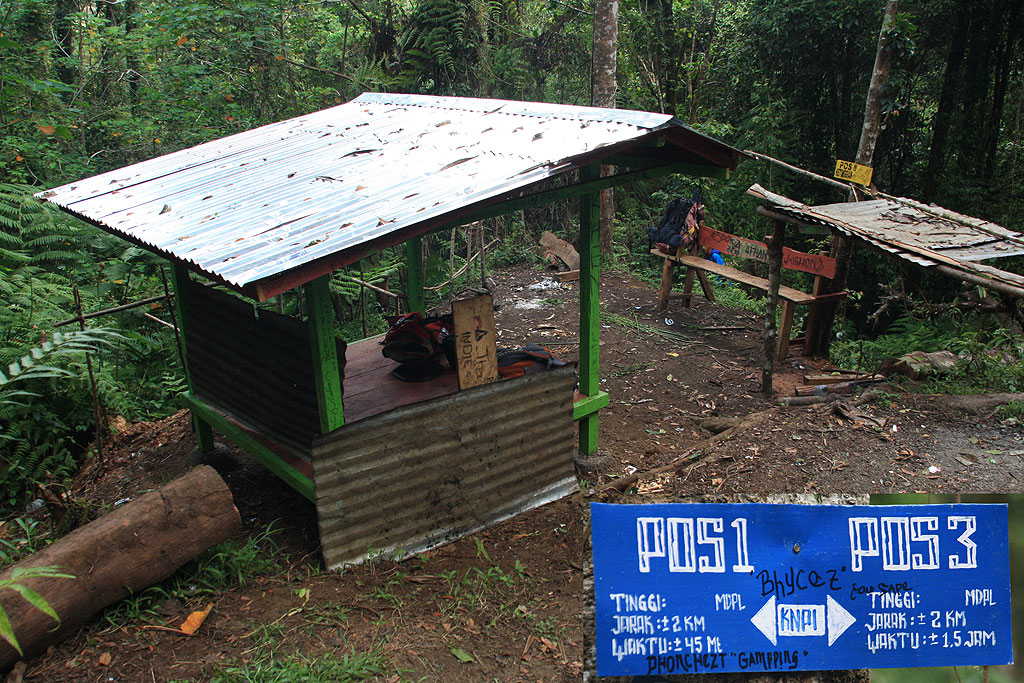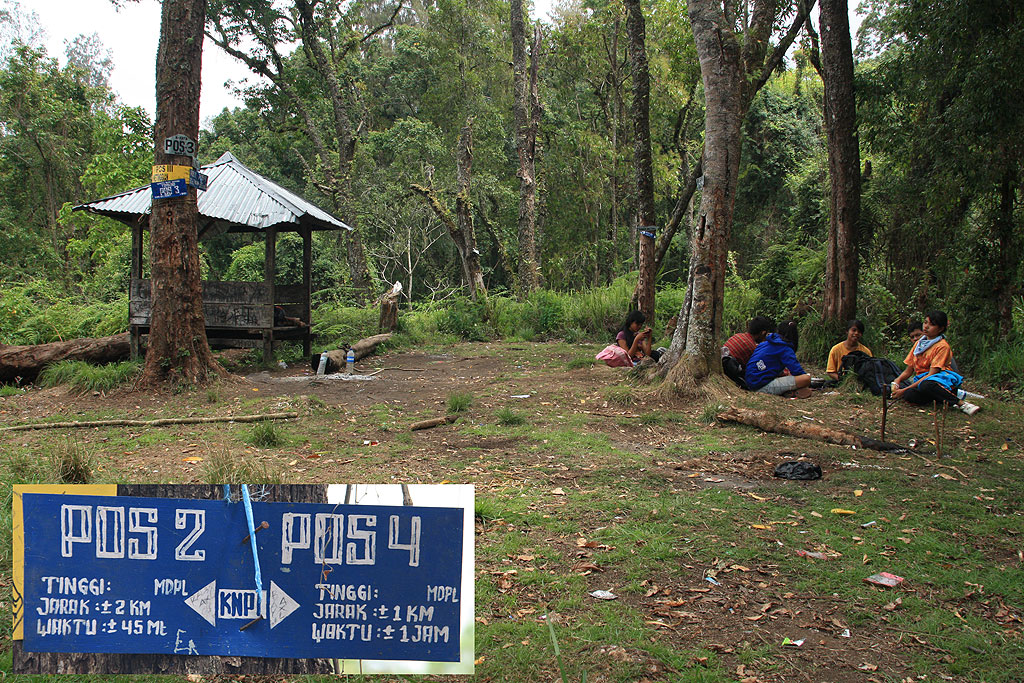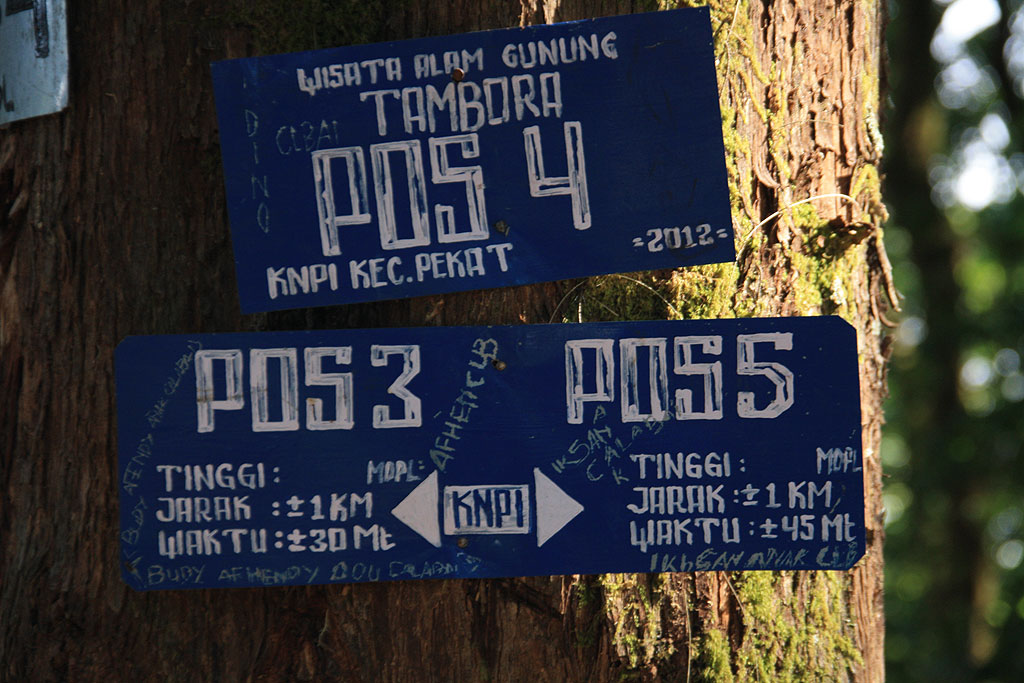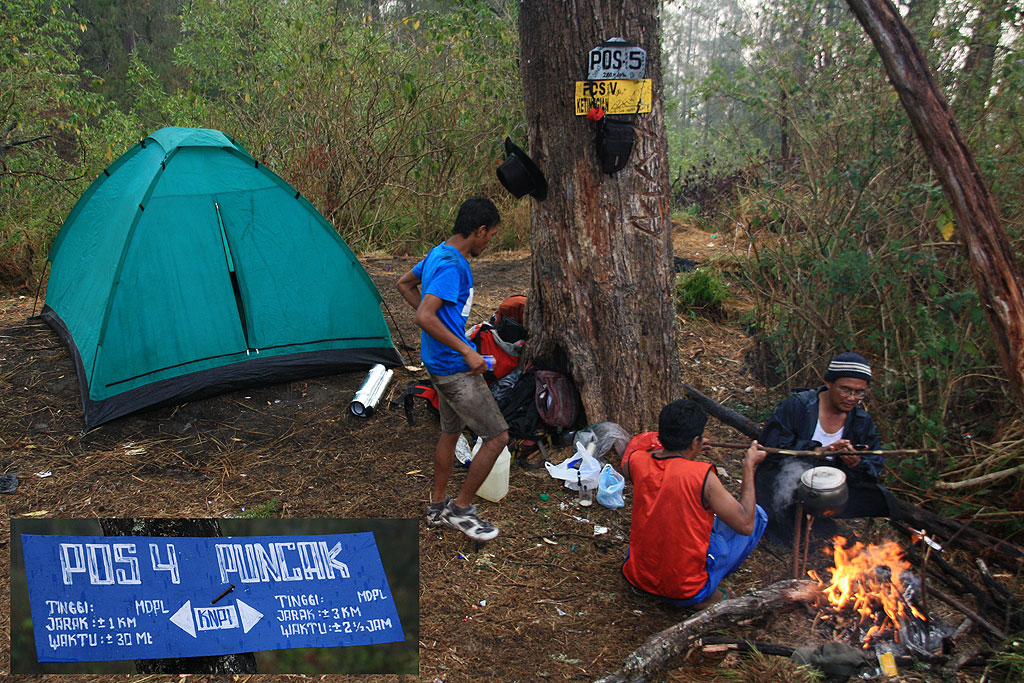 Walking times
Trekking times exposed next to the K-PATA building in Pancasila (KPT) were different from those shown on boards at posts (PSB) and different from our real walking times (RWT)
Walking up – you'll surely beat the suggested times
Pancasila to POS1: 3:30 (KPT), 3:30 (PSB), 2:30 (RWT)
POS1 to POS2: 2:00 (KPT), 1:30 (PSB), 1:15 (RWT)
POS2 to POS3: 2:00 (KPT), 1:30 (PSB), 1:15 (RWT)
POS3 to POS4: 1:30 (KPT), 1:00 (PSB), 0:45 (RWT)
POS4 to POS5: 2:00 (KPT), 0:45 (PSB), 0:35 (RWT)
POS5 to top: 3:30 (KPT), 2:30 (PSB), 2:00 (RWT)
Walking down – you'll probably fall behind suggested times
Top to POS5 – 1:30 (RWT)
POS5 to POS4 – 0:30 (PSB), 0:30 (RWT)
POS4 to POS3 – 0:30 (PSB), 0:30 (RWT)
POS3 to POS2 – 0:45 (PSB), 1:10 (RWT)
POS2 to POS1 – 0:45 (PSB), 1:15 (RWT)
POS1 to Pancasila – 3:00 (PSB), 3:00 (RWT)
Risks
Stay away from nani plant. It can burn skin severely. Long pants and long sleeves will protect you from burns. The plant grows between POS3 and POS5. It looks like that: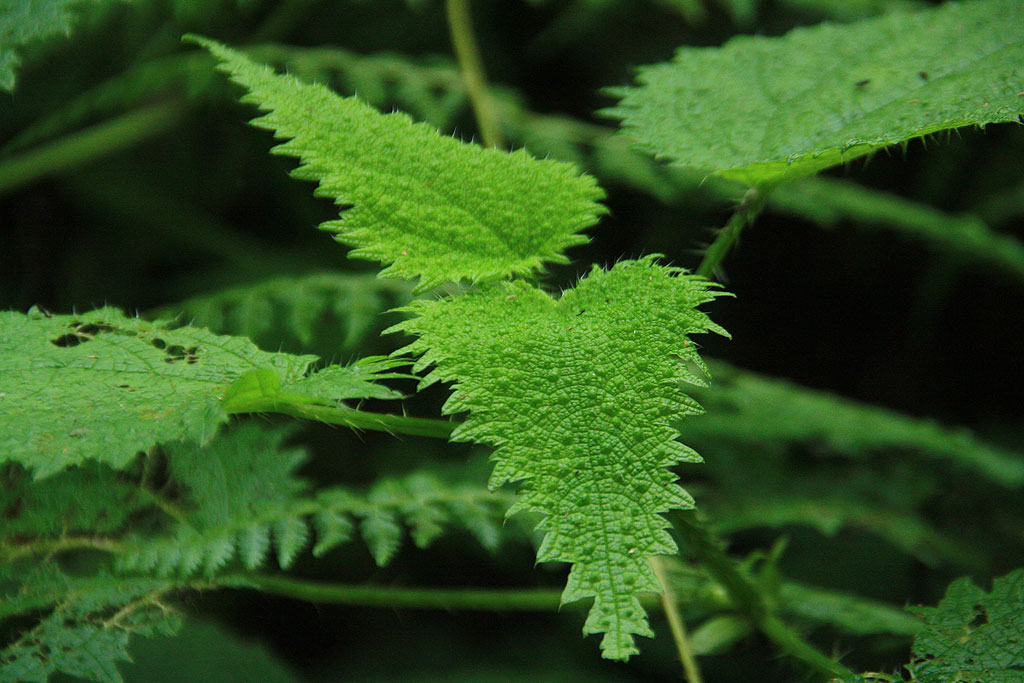 Rainforest between Pancasila and POS2 is full of leeches. Above-ankle shoes and long pants should protect you well from those blood-suckers. Leeches go off when burnt.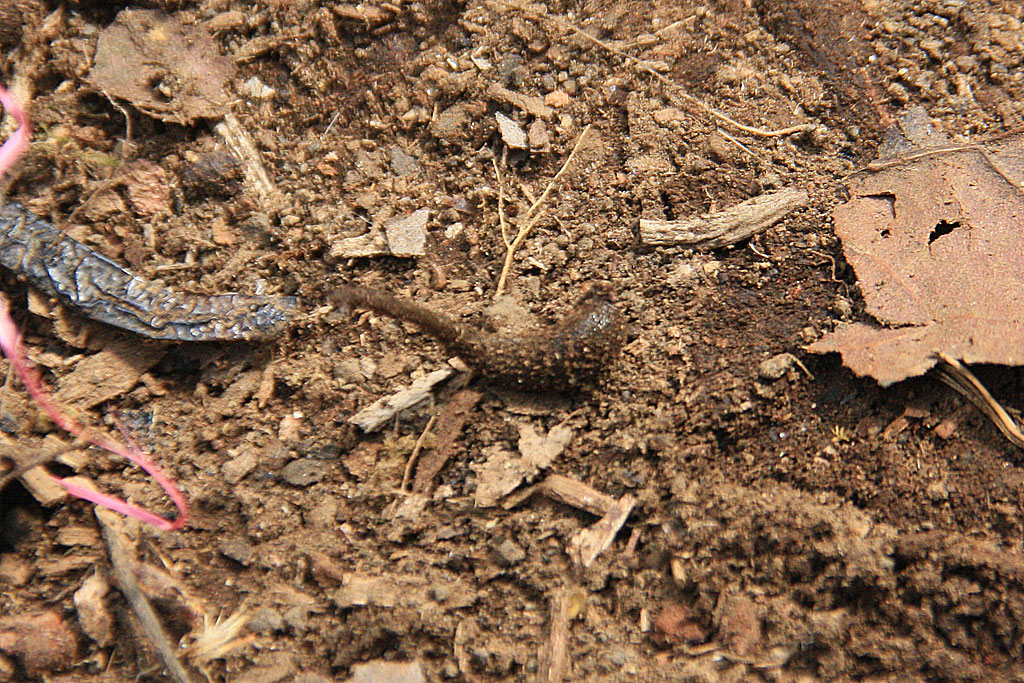 Leaving Pancasila
There are two connections from Pancasila to Dompu. Morning bus leaves 6:00 from in front of school (but we also saw it leaving 5:40). It is extremely crowded. The afternoon bus leaves at 15:00.
Photos from the trek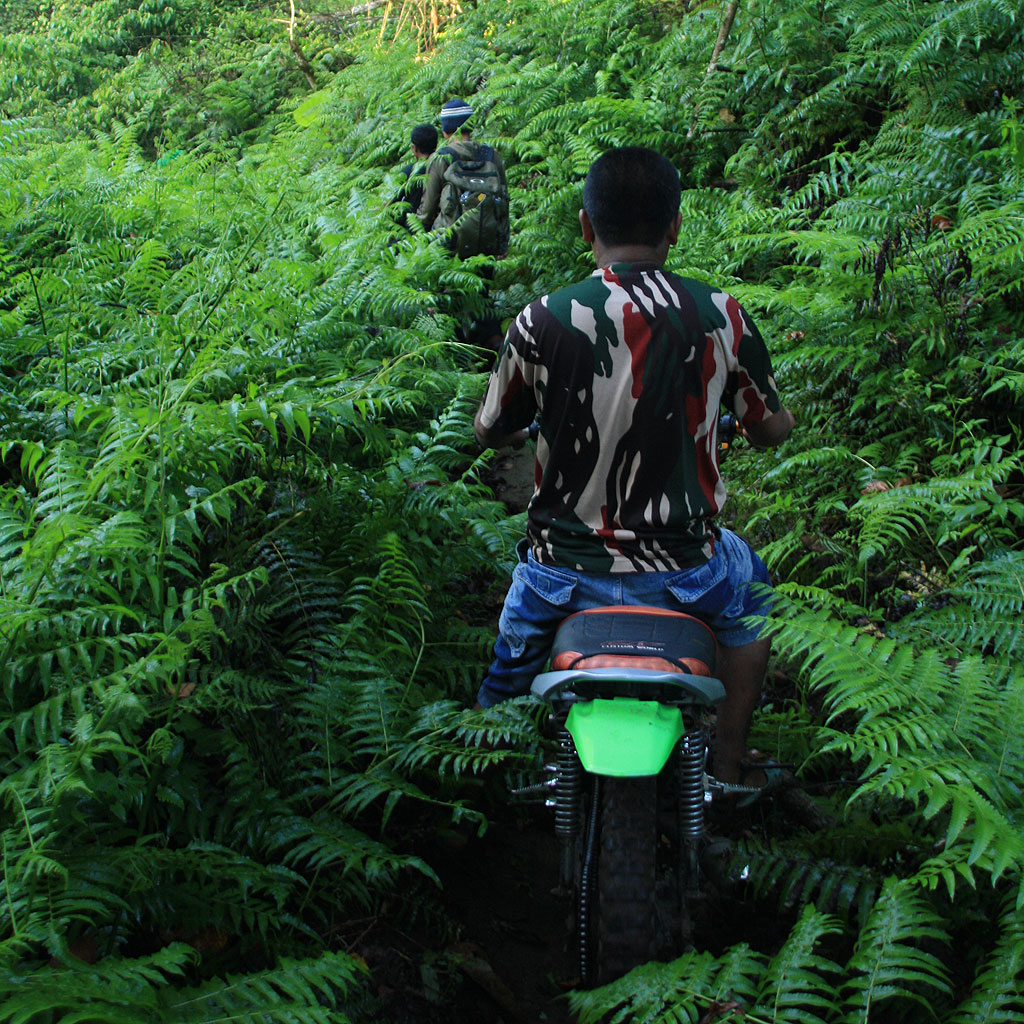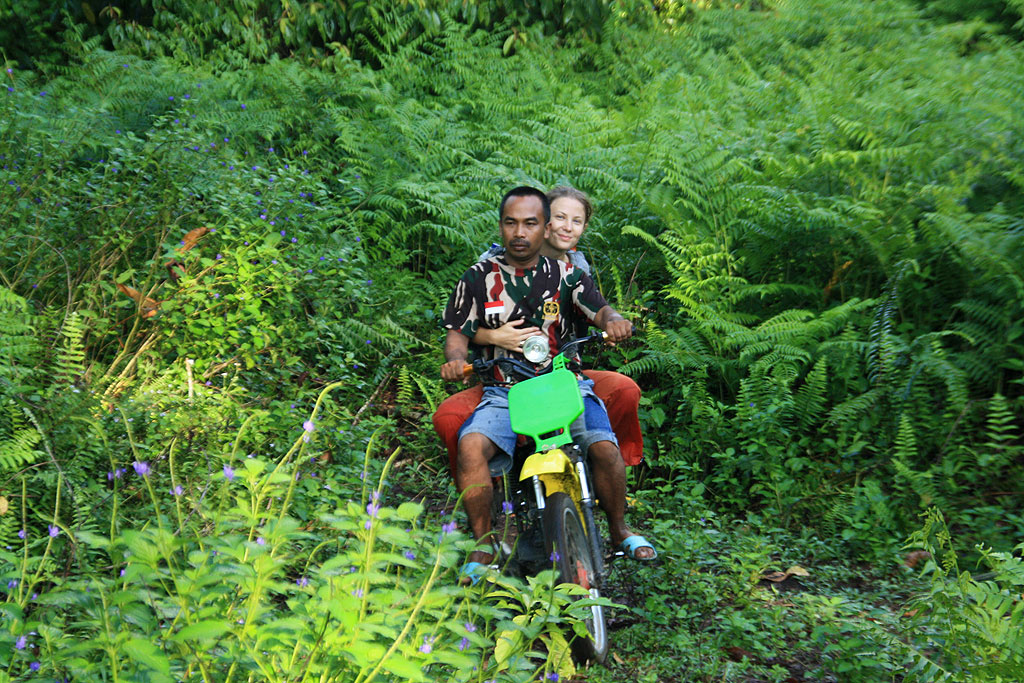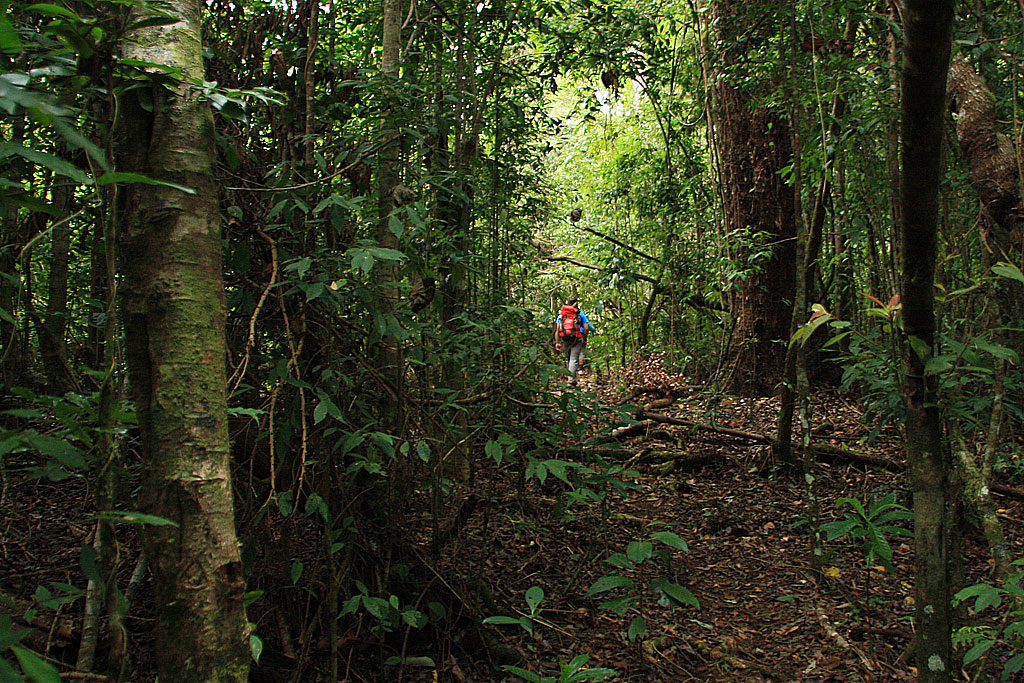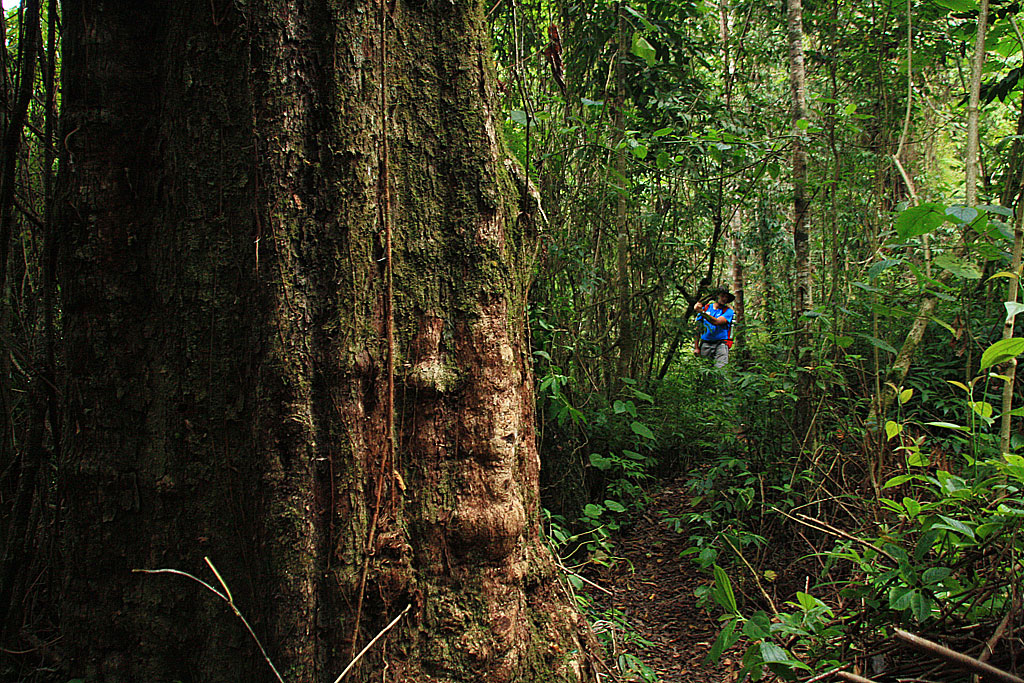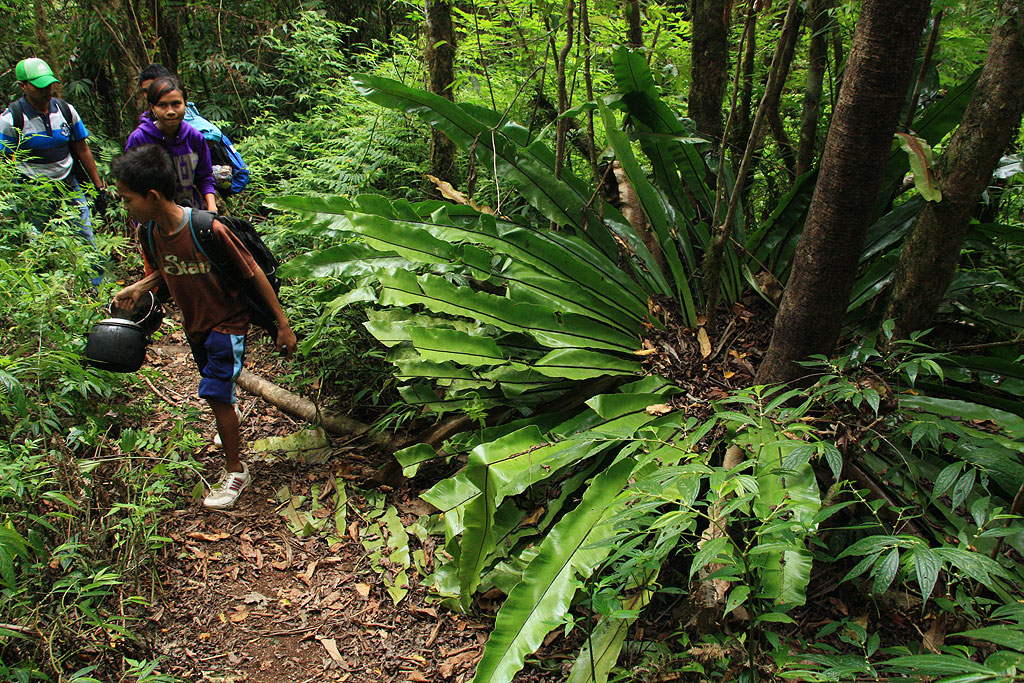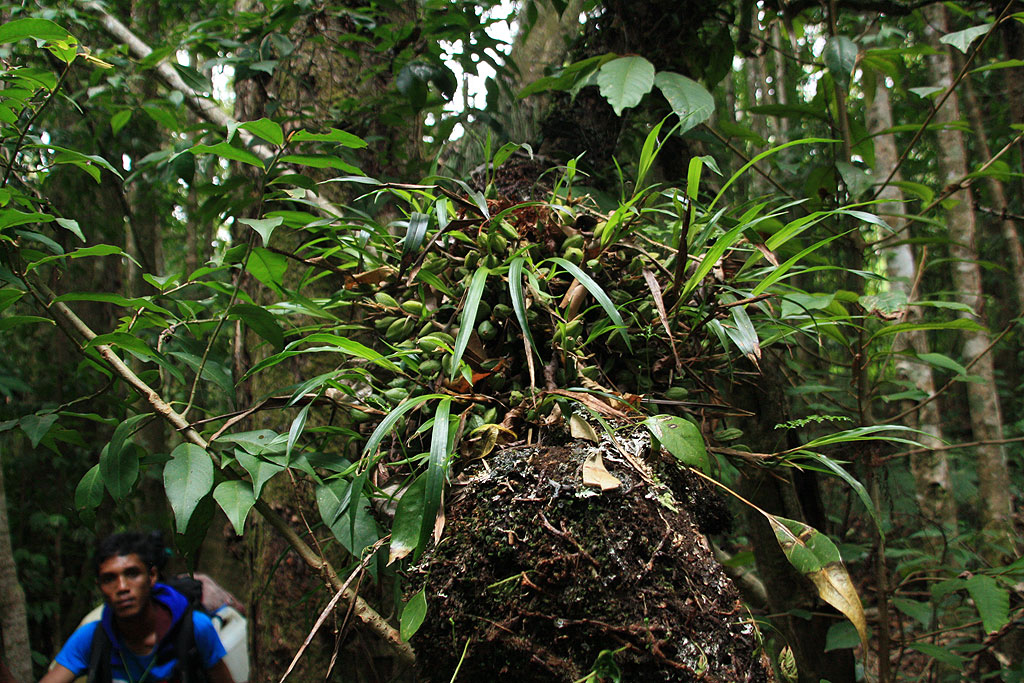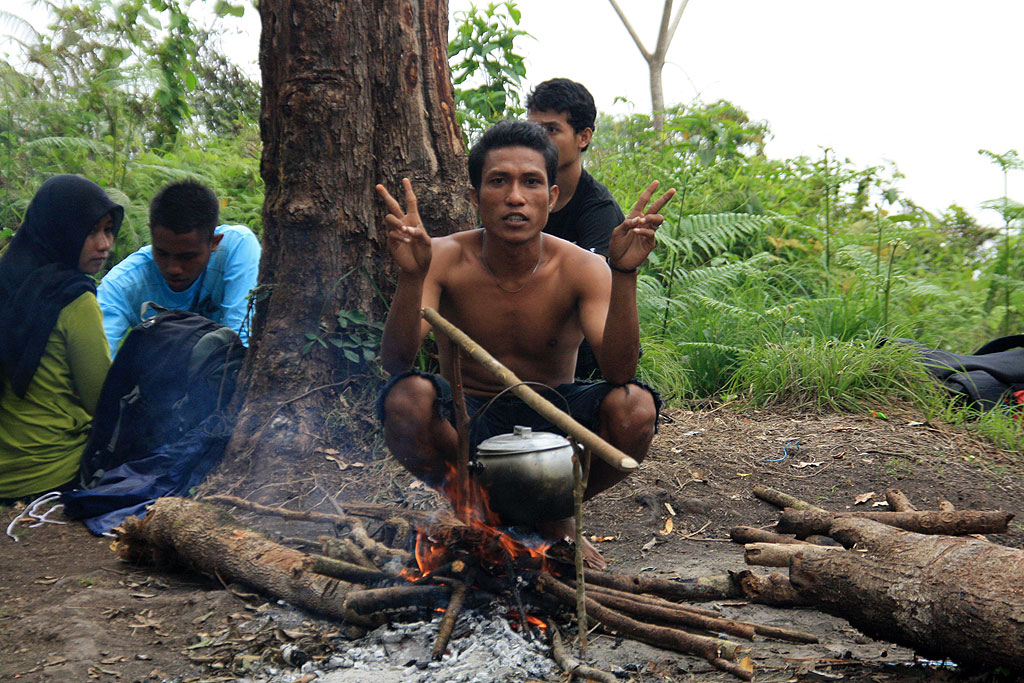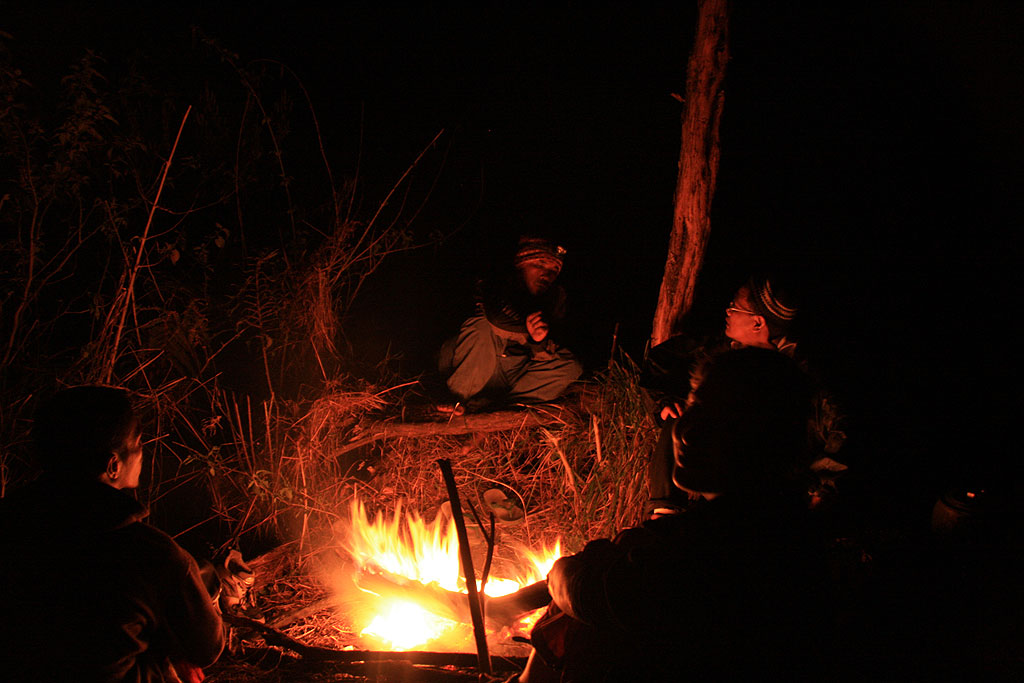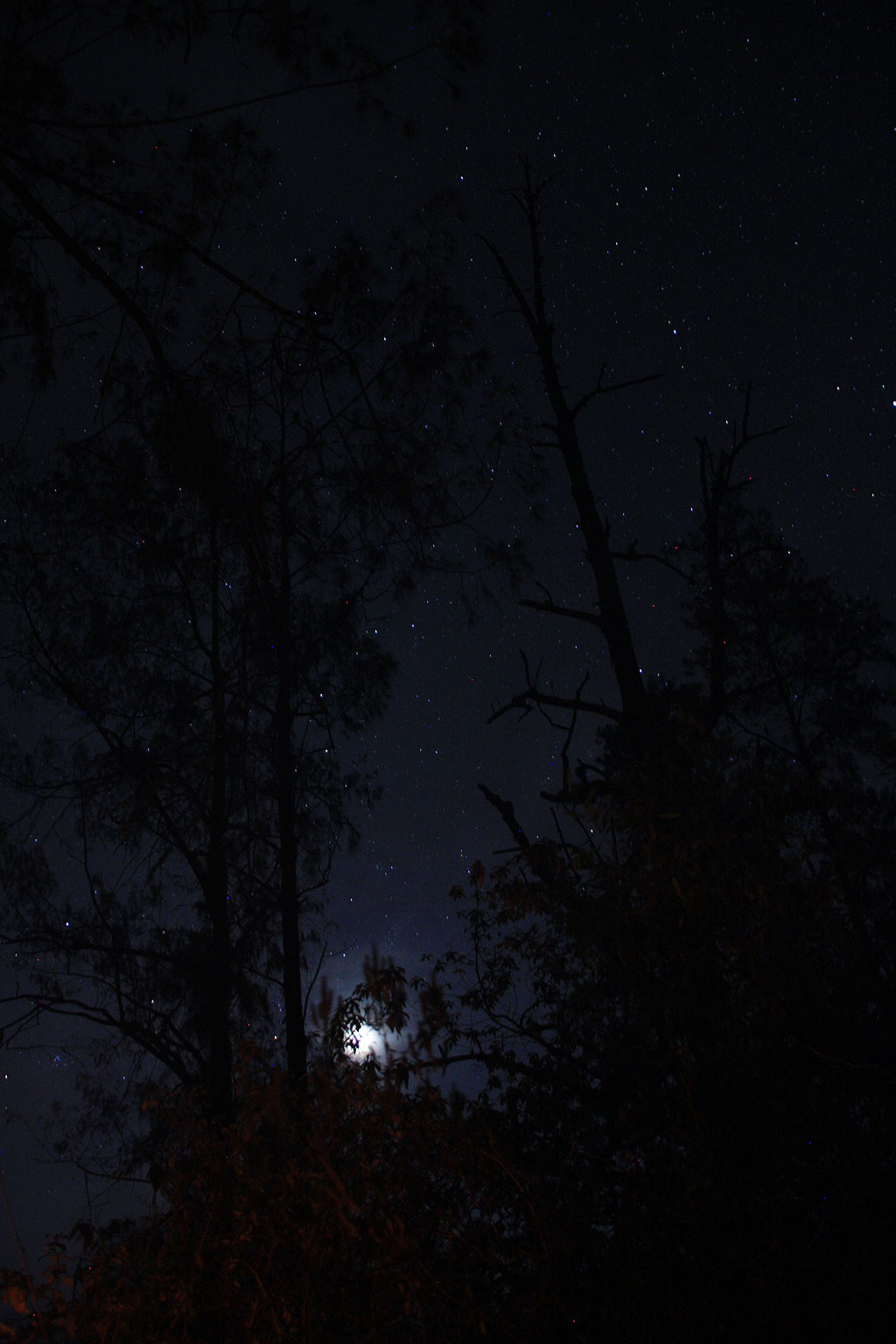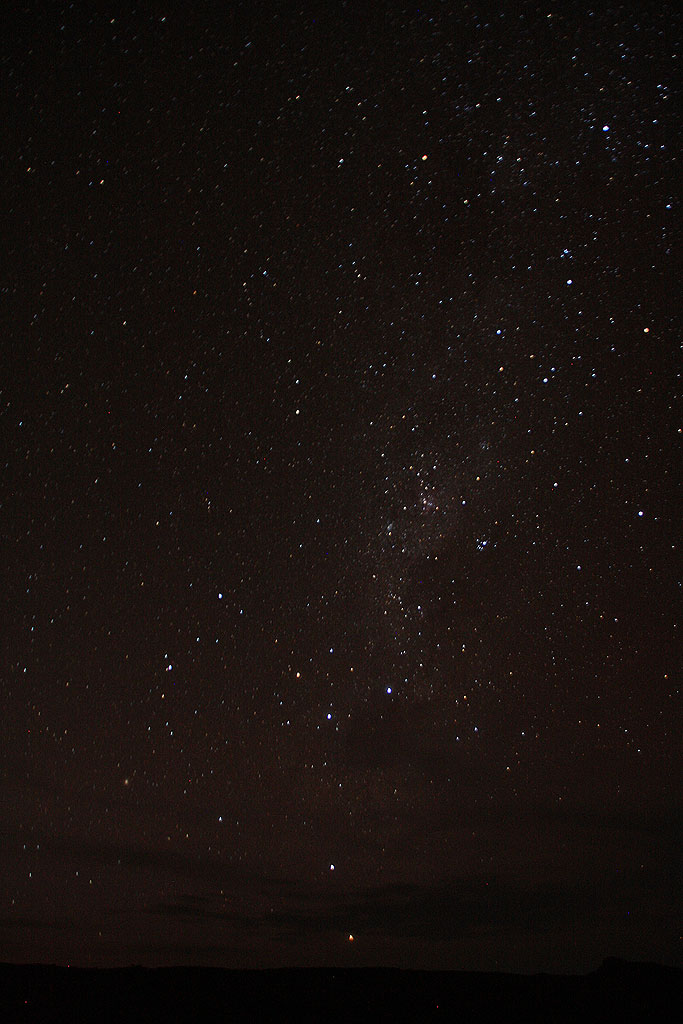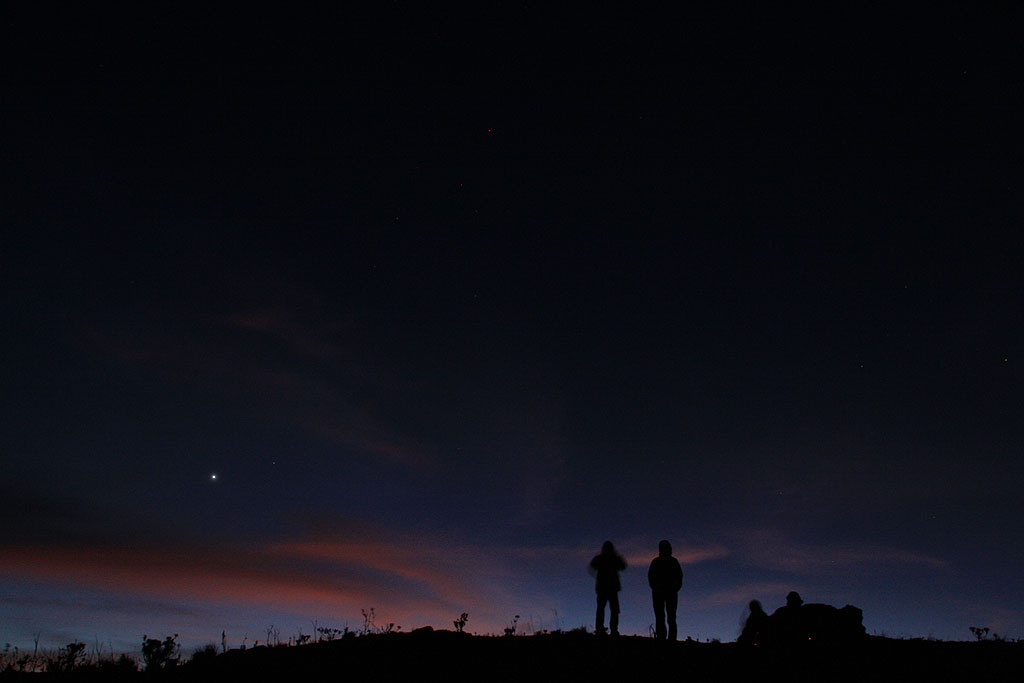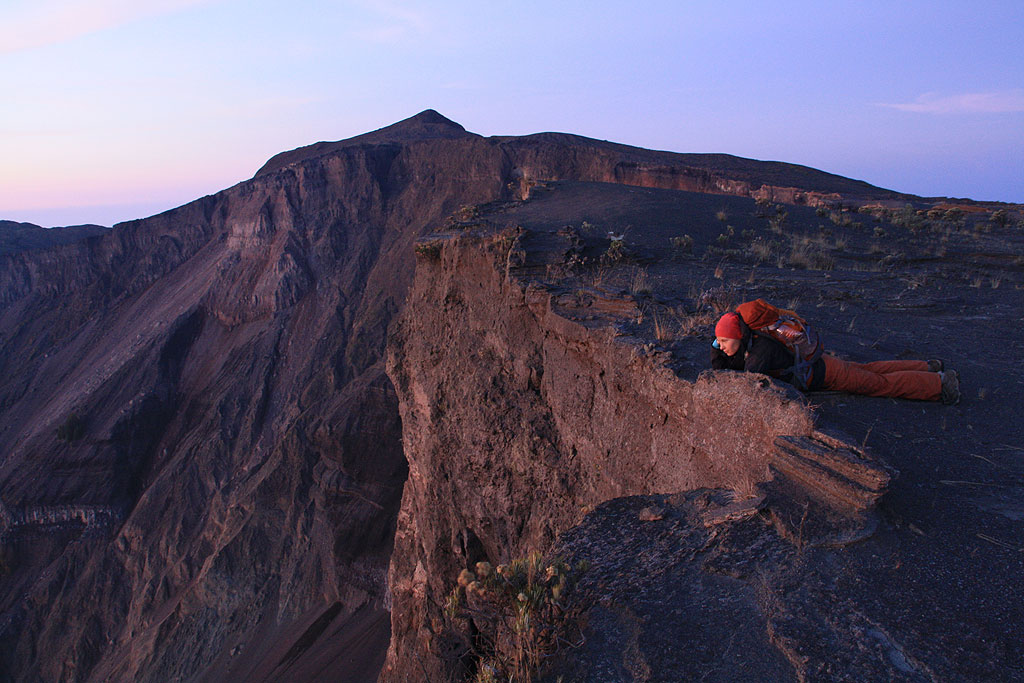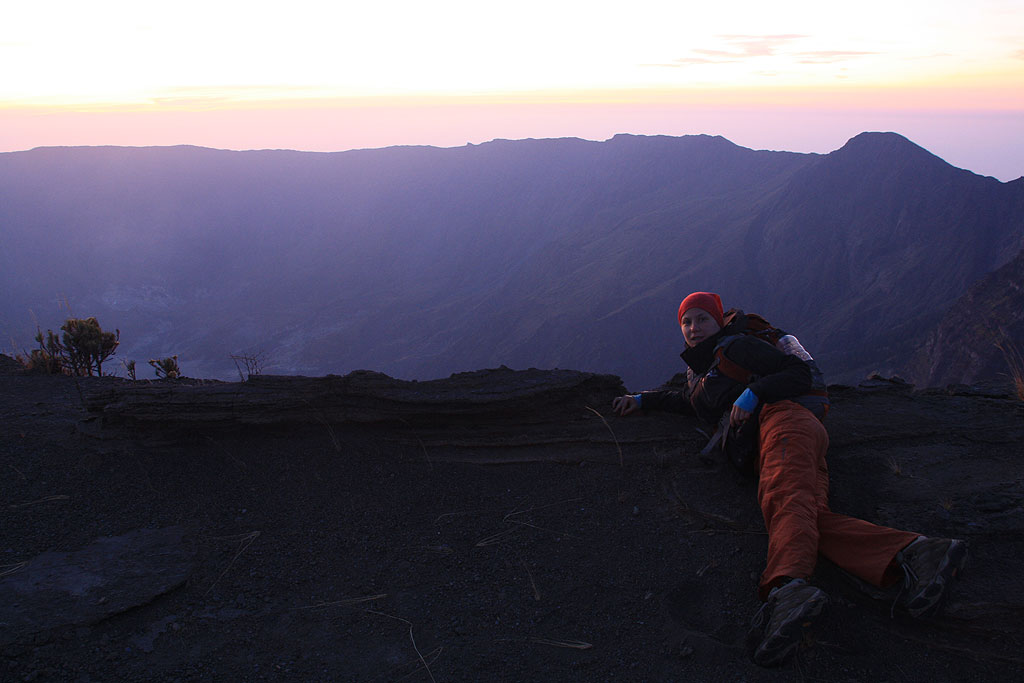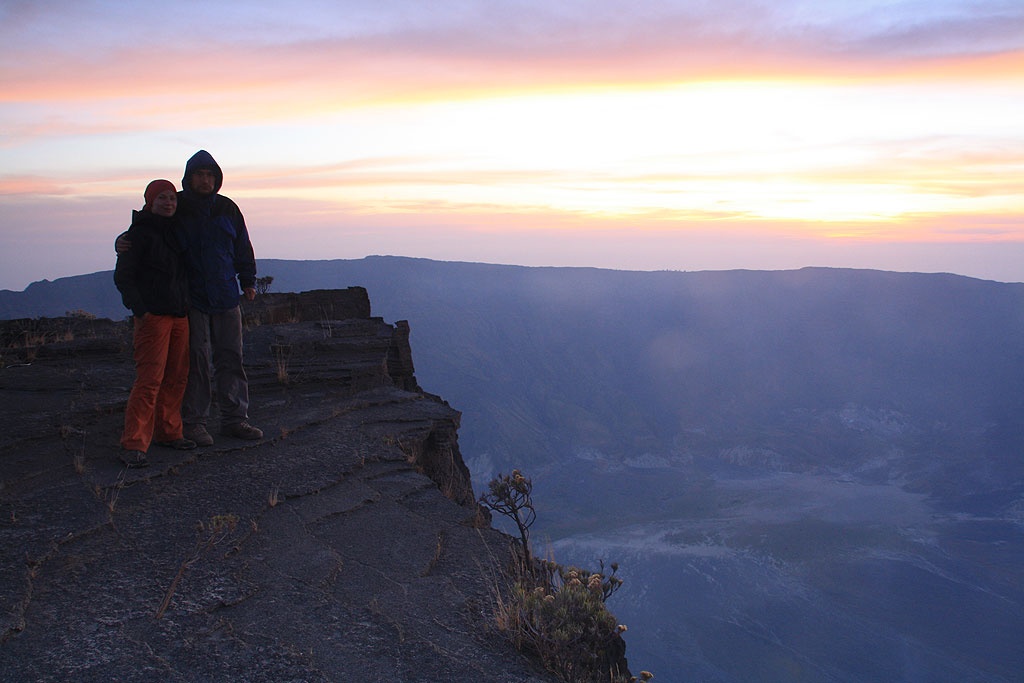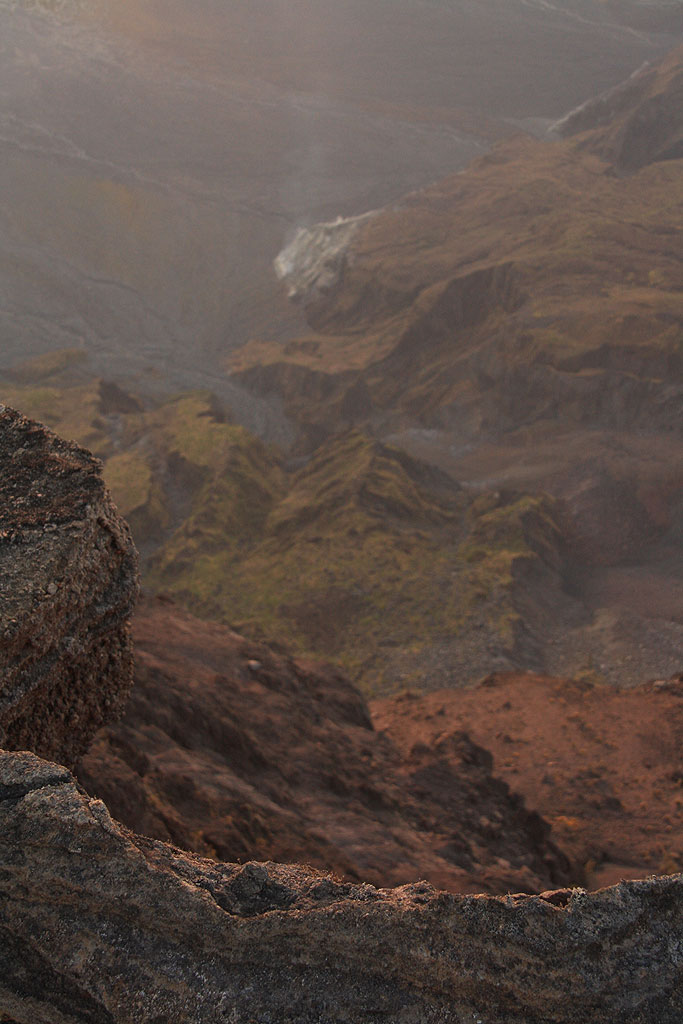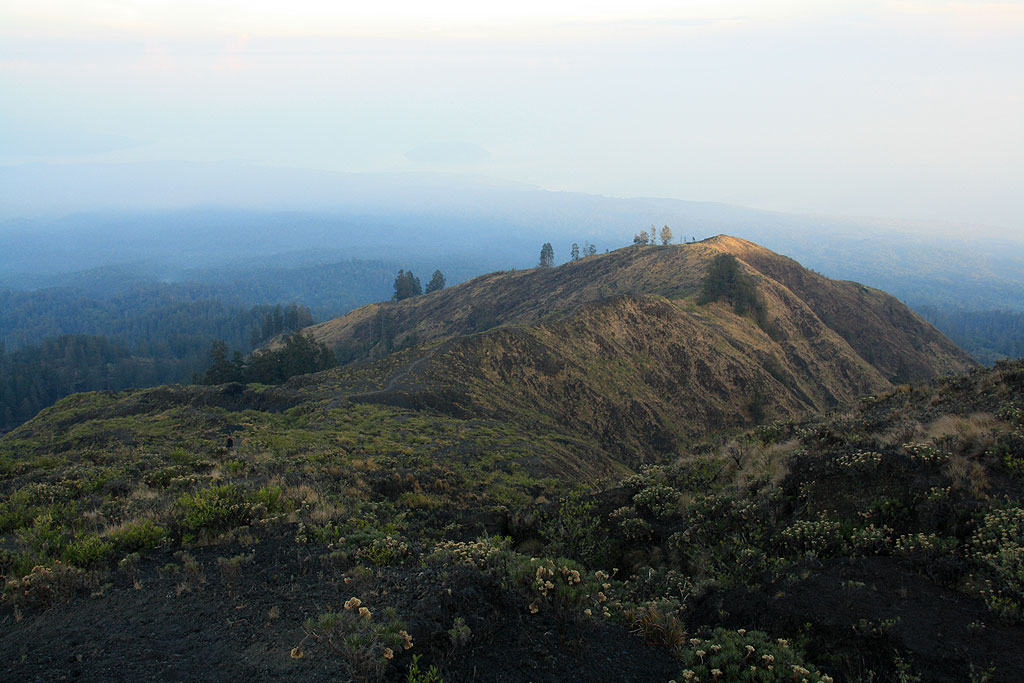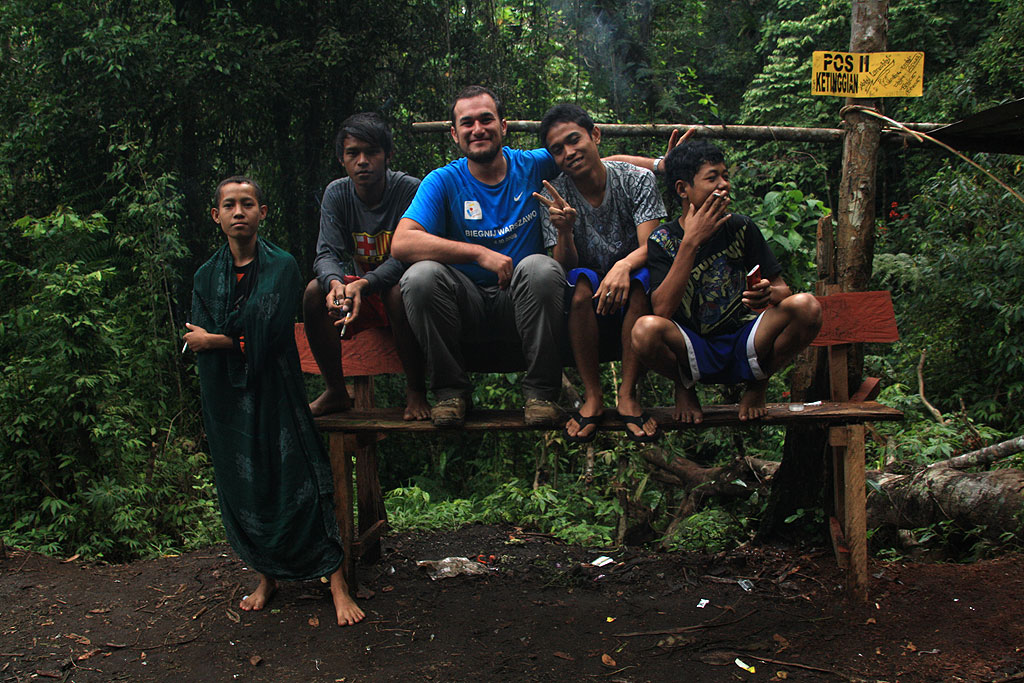 Some other helpful Internet resources
http://visittambora.wordpress.com
http://www.gunungbagging.com/tambora/
http://wikitravel.org/en/Mount_Tambora